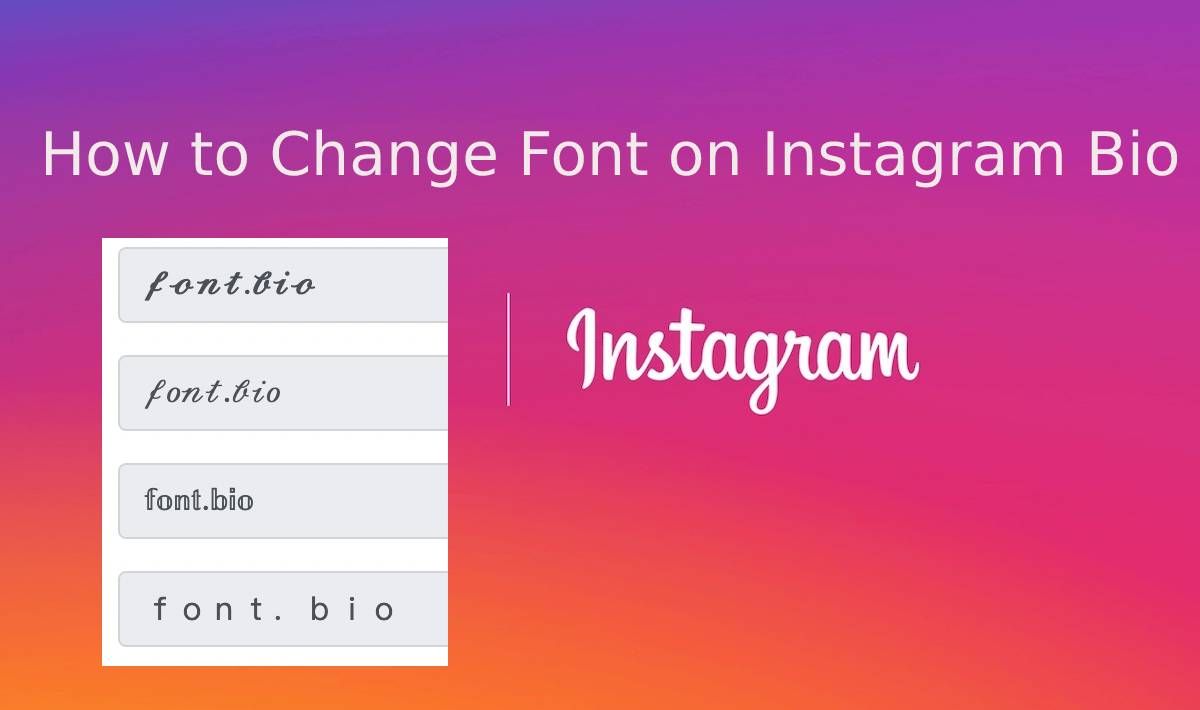 How to Change Font on Instagram Bio
The question of how to change the Instagram bio font is very popular lately. Instagram is among the most used applications and social media channels in the world. Instagram has more than 4 billion users in total all over the world and more than 1 billion users actively use Instagram every month. In other words, he opens and uses the Instagram application at least once in the relevant month. When we look at the reports, almost half of the world's population communicates and shares through this groundbreaking social media application Instagram.
Instagram stands out from other applications with its creative features and unique opportunities for digital content producers. You may need to get more followers to stand out among other Instagram users, influencers and influencers. In recent years, the e-commerce industry has also been using Instagram frequently. At the end of the day, your visibility and reputation on Instagram will mean increasing your revenues.
The Way To Become A Star On Instagram Is By Creating A Creative Bio
It is among the details that catch the eye of those who enter your Instagram Bio page. The bio section just below your profile photo now covers a total of 150 characters. If you use Instagram frequently, you know that your username and Instagram name can only be changed once in 14 days, but there is no such restriction in Insta bio.
You have to create cool, fancy and creative ig bios to get your Instagram Bio creative and get ahead of your competitors. While you can fit in 150 characters, the way to do this is to use fancy fonts with cool colorful fonts and emojis.
The Magic of Instagram Bio Font Changer
Fonts have been used for years in the digital and physical world. We have always seen different fonts on products in newspapers, magazines, televisions, Billboard screens, at school, at work, at shopping malls, at markets. Fonts are very important for brands. The font you set while creating a brand creates a perception and feeling on your target audience. Brands establish various bonds with their customers, brand name logo and brand font scent are some of them.
For example, a brand's font makes the customer feel different. The spaces between the letters in the font, writing in handwriting, writing horizontally or underlined, whether the font is thick or thin can create meanings in the mind of the customer. Therefore, while creating your personal brand on Instagram, the font you will choose in the bio should be very careful and in a way that will enable you to establish positive ties with your target audience.
If you have not changed your profile bio font on Instagram before, you are using the font named Neue Helvetica by default. You are using Instagram on your Android device, you will see the Systems Roboto font in the post titles and comments in the bio. In Instagram stories, 9 cool fonts, consisting of font types such as Classic, Modern, Neon, Typewriter, Strong, Drop-Shadow, Comic Sans, Serif, Sans Serif, welcome you. You can use these fonts in Instagram story posts.
What Changing Your Instagram Bio Font Gives You
We mentioned that you will stand out by changing the Instagram font in your bio. The easiest and fastest way to be different here, to have a creative Instagram profile, is to have a fun and cool bio description. You know, there are thousands of creators, artists, singers, athletes, models and fashion icons on Instagram. The best way to deal with all of them is to change your Instagram bio font right away.
When you catch the latest innovations and trends, it also attracts the attention of your audience. The writing styles you will create here via font.bio will put you in a better position in the eyes of your existing followers, while at the same time, it will enable you to gain new Instagram followers. Fans who see the beautiful font changes in your Instagram bio will be closer to interacting with you. Change your Instagram bio font creatively now. Using custom fonts is a way to show that you both catch the trends and inspire your followers.
How To Steps To Change Instagram Bio Font
You can easily change the Instagram bio font without installing an extra application on your phone. It is very advantageous to change the Instagram bio font without installing an application on the phone, because it does not take up unnecessary disk space on your device. It does not ask you for special personal permissions that will put your security at risk. The name of this fascinating and excellent site is font.bio.
Then, write the words or phrases you want to appear in the Instagram bio in the field at the top.
Just below, you will see dozens of different fun, colorful and cool fonts where you can examine how the sentences you write will look in your Instagram bio.
Choose your favorite font and the font you want to place in your Instagram bio. Click the Copy button on the right. Font.bio has already copied the Instagram font for you!
Now open the Instagram app.
Click on the Edit profile option in the app and then select the Bio menu.
Press and paste the Instagram font that Font.bio has prepared and copied for you. Click the Save button and save all settings.
And your Instagram bio font has been changed. With the easy and fast bio font copy and paste process, your profile has been made in line with the trends and you are one step ahead of your competitors. Now all you have to do is take a deep breath and enjoy the most beautiful Instagram fonts that font.bio has created for you.
Now that you've safely updated and optimized your account, you can focus on your main focus: sports, fashion, dining, and your favorite friends and family. We have told you about changing the Instagram bio font in your digital content production journey, but we promise that we will always be with you and support you with different digital content topics. Keep following and using us as well as recommending and sharing to your friends. Stay with love!