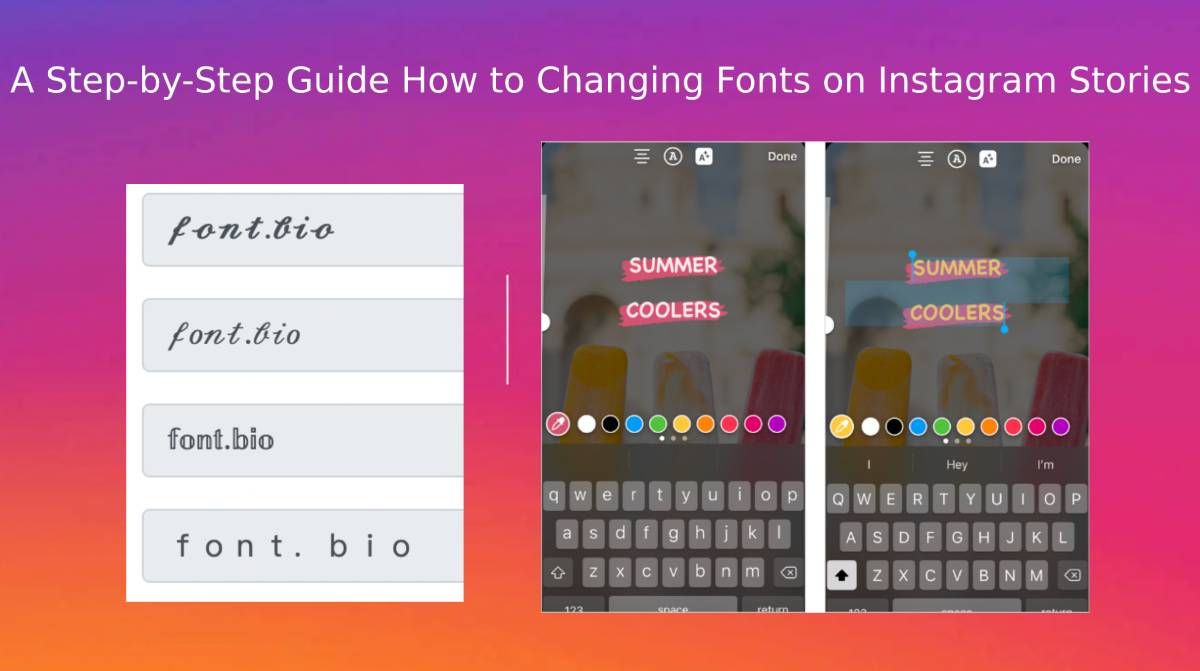 A Step-by-Step Guide How to Changing Fonts on Instagram Stories
Instagram Stories have become an engaging and creative way to share moments, connect with followers, and express your personal style. One effective way to make your Stories stand out is by changing the font. Changing the font on your Instagram Stories can add a unique touch, enhance visual appeal, and help you convey your message more effectively. In this article, we will provide you with a step-by-step guide on how to change the font on your Instagram Stories, allowing you to unleash your creativity and capture the attention of your audience.
Step 1: Create a New Story:
To change the font on your Instagram Story, begin by opening the Instagram app on your mobile device and tapping on your profile picture or the "+" icon in the top left corner of the screen. This will open the camera interface, where you can capture a new photo or video or select content from your camera roll.
Step 2: Customize Your Content:
Once you have selected or captured your desired content, you can begin customizing it by adding text. Tap the "Aa" icon located at the top-right corner of the screen to open the text editor. You can choose from various text options, including different font styles, sizes, colors, and alignment.
Step 3: Selecting a Font from font.bio:
To change the font style, swipe left or right on the font options at the bottom of the screen. Instagram offers a range of font styles to choose from, such as Classic, Modern, Neon, Typewriter, and more. Experiment with different styles to find the one that best complements your content and aligns with your personal aesthetic. Also you can use our Instagram Story Font Changer font.bio. Enter font.bio site write your words to share on Insta Story and choose best aesthetic fonts cool emoji copy and paste your Instagram Story screen.
Step 4: Adjusting the Font Size and Alignment:
After selecting a font style, you can customize the font size and alignment. Use the text slider located on the left side of the screen to adjust the font size. Swipe up or down to increase or decrease the font size according to your preference. To change the alignment of the text, tap the alignment icon (represented by two lines and arrows) located at the top of the screen. You can align your text to the left, center, or right, depending on your desired layout.
Step 5: Adding Effects and Enhancements:
Instagram offers additional features to further enhance your text. You can add effects like drop shadow or rainbow gradient by tapping on the "Aa" icon again and selecting the desired effect. These effects can make your text more eye-catching and visually appealing.
Step 6: Completing and Sharing Your Story:
Once you are satisfied with the font and text customization, you can add additional stickers, drawings, or filters to your Story if desired. To do so, tap the icons located at the top of the screen. When your Story is complete, tap the "Your Story" button at the bottom of the screen to share it with your followers. Alternatively, you can send it directly to specific individuals by tapping the arrow icon.
Conclusion:
Changing the font on your Instagram Stories is a simple yet effective way to make your content more visually appealing and engaging. By following these step-by-step instructions, you can customize the font style, size, and alignment, allowing you to add a personal touch and reflect your creative vision. Experiment with different fonts, effects, and enhancements to find the perfect combination that represents your style and captures the attention of your audience. With the ability to change fonts, your Instagram Stories can become even more impactful and help you stand out in the ever-growing sea of content.